Welcome to the best Audio Bible App that allows you to download a Catholic copy of the Holy Bible.
Our mission is to provide God's Word in audio freely to every Catholic Christian.
We offer you the best Catholic edition of the Bible: the Douay Rheims, an English translation of the Latin Vulgate for the English Catholics.
This Bible is free and offline, it can be used without Internet connection.
Douay is an excellent translation of the Holy Word, still used by Catholics to this very day.
It was translated by French scholars at the city of Douay, France.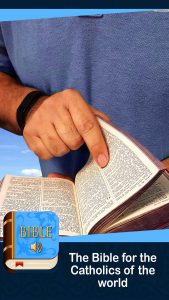 Catholic Audio Bible has:
– 73 books on it
– Douay Rheims Bible: Catholic Version of the Bible accepted by the competent authority (Catholic Church)
– Audio free offline Bible (Download and listen offline)
– Modern, easy-to-use interface
– Day/Night mode to modify the color of your screen
– Quick search of books and chapters
– Ability to increase and decrease the font
– Copy, send and share verses
– Bookmark your favorite verses
– Make a list of favorites
– Go back to the last verse read
– Keyword research
Enjoy Douay Rheims Bible, the most popular Catholic Bible, and feel God's love wherever you go!
Users:
A Google user
Very good reference. I like how you have the option to read or listen or both. Seems very good and accurate. It is so nice to have an Catholic audio bible as an app.
A Google user
I love this app. I wish I could select multiple chapters at a time to play continously so if I'm listening while I have my hands busy I don't have to restart it.
Larry
Is it ok to like this audio version, so I don't have to listen to the tv shows my wife watches. Usually I have always read the Bible, but trash tv is taking over. 🙂
A Google user
I really enjoy using this app it is very helpful and because I sometimes have trouble seeing it helps me to be able to listen to the scripture I would recommend this app to family and friends it is a real blessing to me
A Google user
it is wonderful because i can listen and follow along with the written page also. my eyes are nit what they used to be. this app is a blessing.
Mary glover
Love the set out large and clear love that the page remains at the place last seen, my bible is very heavy and smaller in print so I very much appreciate your gift to us I had asked for audio but it asked me to give my details with Amazon and that I could not but I'm very happy with what you gave me thank you and every time I read it a blessing to you all God bless
Tchoukpa Almira
It's very cool and I can hear the word of God without reading,before I can't even read the bible because I was busy and now I can work while listening to the Bible.
Cal Leach
Just Started..Easy to maneuver… but…How can I continue through all of Genesis without having to reset after each small section/ paragraph ( round numbered units
Graham Steel
I find this Bible great the performance is 5 stars and easy to use. The text of the Bible are on. Good work!!
Thokozile Chivore
I wish it was possible to have it in other languages, e.g. our vernacular. I also wish it was audible without using earphones
A Google user
Most enlightening, informative, peaceful and loving. Thank you for providing it for the edification of us all.
A Google user
its really helpful. But it would be nice if the translation could be updated. the English is a bit old.
A Google user
The only complaint is the women's voice, shes boring. She could show some emotions when reading the Bible.
Kimberly Olivo
Reading and also listening, is life changing at/in the moment, is just life changing, is preparing for what's going to happen later on in our lives! Love it! 💕💕💕
A Google user
It's like having the computer from Star Trek read you the Bible unfortunately highly illogical when pronouncing non-english names but it's still pretty good for free 🖖
Andrew Kaldas
It's not easy finding a Free Catholic Audio Bible for the Old Testament. I am thankful for this option.
David Lawrence
Thank you very much for the Holy Bible audio I have no education I am 48 years of age and I was born into the Catholic faith and I love my Catholic Church prayers by Jesus Christ and the Blessed Virgin Mary thank you all who set up this beautiful way to learn the Bible I have just started and this is going to help me a lot may God's love be upon you all always thank you for all the people who set it up god bless peace
A Google user
I did get a sample verse sent to me each day. But since I got a new phone I can not achieve that now ! But I would like to again , how can this be achieved ? Thank you I am now enjoying the daily sample readings again. Praise God
charlie richards
I love the bible and for this app to read it out its perfect as I can't read so it's just up my street
Donald Iarussi MFA
In the Bible not enjoying the Catholic church because they have not excommunicated by then and pelosa the Catholic church is going to hell with their political choices and a horrible Pope
A Google user
Hearing word of god early in the morning is a great blessing for the hole day This app really is a helpful and a blessing one
Enrique Hernandez
I love this app its truly helping me learn chapters and scriptures soon I will be able to defend my Catholic faith thank you Lord give me strength and courage so I can speak clearer surely and with all your love in my heart to all that have apostisized themselves from the truth open my ears or that I may hear learn and live by your word in Jesus mighty name I pray Amen