We are glad to present you the best audio Bible app containing the most famous Protestant Bible: King James Version.
Developed for working without Internet connection, the KJV Audio Bible will delight you with its prose, accuracy and beauty.
Download this literary masterpiece now on your mobile and read or listen everywhere.
Commissioned at Hampton Court in 1604 by King James I, this Bible influenced on the English-speaking World and was considered the crown jewel of English Bibles, "the greatest of all translations".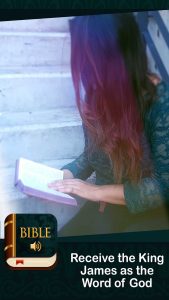 KJV Audio Bible allows you:
– To listen the Bible, rest your eyes and do other things at the same time.
– To read the Holy Bible completely free.
– To read or listen the Bible offline (No Internet required)
– To select Night mode that acts as a dimmer to darken the screen and ensure your eyes don't hurt.
– To search fast and easily between books and chapters.
– To increase and decrease the font.
– Copy, send and share verses.
– Bookmark your favorite verses.
– Make a list of favorites.
– Go back to the last verse read.
– To Search by keyword.
Help us spread God's Word by sharing King James Bible!
Download the complete King James divided into the Old and the New Testament.
The Bible is divided into books, chapters and verses. The books are:
Old Testament: Genesis, Exodus, Leviticus, Numbers, Deuteronomy, Joshua, Judges, Ruth, 1 Samuel, 2 Samuel, 1 Kings, 2 Kings, 1 Chronicles, 2 Chronicles, Ezra, Nehemiah, Esther, Job, Psalms, Proverbs, Ecclesiastes, Song of Solomon, Isaiah, Jeremiah, Lamentations, Ezekiel, Daniel, Hosea, Joel, Amos, Obadiah, Jonah, Micah, Nahum, Habakkuk, Zephaniah, Haggai, Zechariah, Malachi.
New Testament: : Matthew, Mark, Luke, John, Acts, Romans, Corinthians 1 and 2, Galatians, Ephesians, Philippians, Colossians, 1 Thessalonians, 2 Thessalonians, 1 Timothy, 2 Timothy, Titus, Philemon, Hebrews, James, 1 Peter, 2 Peter, 1 John, 2 John, 3 John, Jude, Revelation.
Get now your KJV Audio Bible for free.
God will change your life with HIS word!